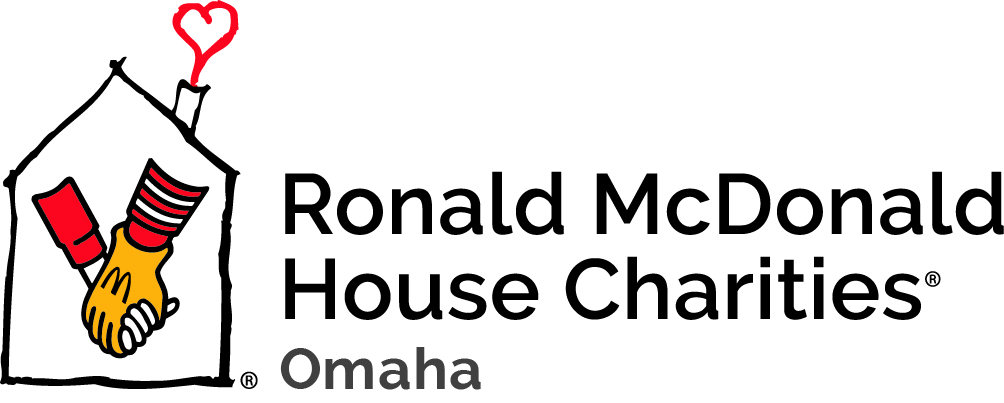 Ronald McDonald House Chairity Program
The Ronald McDonald House Charity Program offers all the elements of a home for those in need. This is the only Ronald McDonald House that serves critically ill pediatric patients in the state of Nebraska and Southwest Iowa. They provide families with accommodations near medical facilities during vulnerable times. They are committed to recognizing people as individuals first and patients second.
What services do you provide?
The House Program offers all the essential elements of a home including a warm bed, a hot shower, laundry facilities, transportation to and from the hospital and regular nutritious meals to sick children and their families. RMHC is the only Ronald McDonald House serving the state of Nebraska and Southwest Iowa and implements its' House program strategy by providing families with accommodations near their medical facility during their most vulnerable times.
Ronald McDonald House Charities in Omaha (RMHC) serves and houses critically ill pediatric patients and their families who come to Omaha from across the United States—and the world—to receive medical treatment. The House accepts families who live 35 or more miles away who bring their children, in utero to age 21, to any area hospital or medical institution regardless of socio-economic status, diagnosis, race, sexual orientation, or faith, and as such, delivers programs without the influence of any discriminatory undertones.
Additionally, the House leverages nonprofit community partnerships to provide wrap-around services which aim to bridge gaps in areas like education, emotional well-being and financial literacy.
Is there anything you wish more people knew about your organization?
By observing that when there is a sick child, there is a sick family, RMHC is committed to recognizing people as individuals first and patients second. As a support arm to local hospital systems, RMHC acts as the cornerstone that helps families stay close to their ill or injured children at low to no cost. While there is a suggested donation of $20 per family per night, no family is ever turned away due to their inability to pay. The House is dedicated to positively impacting its families in the following ways:
• Increasing the caregiver's ability to spend more time with their child
• Increasing interaction with their child's clinical care team
• Allowing caregivers to actively participate in medical care decisions
• Affecting psychological well-being and recovery of the child
• Improving the sleep quality of caregivers
• Improving family coping and resiliency during pediatric hospitalization
How can people get involved?
RMHC encourages anyone who is interested in getting involved at the House to visit our website or to call 402.346.9377.
How have you seen the organization make a difference?
RMHC believes that every child deserves the opportunity to heal in an environment designed to foster hope. The House has made a difference to families, like the McVickers, who spent a total of 292 days at the House.
By the time they found themselves at RMHC in Omaha, the McVicker family had already experienced a lifetime of challenges. Their daughter, Emery, was born in Houston on September 2020 with a rare and potentially fatal condition, but after two months in the NICU, she was strong enough to go home.
Then on New Year's Eve, during a trip back to their home in Sterling, Nebraska, parents Rebeka and Paxton noticed their daughter wasn't quite acting like herself. She was sluggish and swollen, so they took her to the nearest emergency room.
From there she was life-flighted to Omaha where it was discovered Emery had pulmonary hypertension and right-side heart failure.
While being treated for those issues, Emery caught a cold. That minor infection restricted her breathing enough that she had to be put under sedation, with a breathing tube inserted.
The family's journey to that point had been overwhelming, to say the least. They needed something—anything—to help.
Emery began to recover, and after she was transferred to a rehabilitation facility, her parents began staying at the House. As soon as they walked in, mom, Rebeka, said, "It felt like home."
Paxton had to return to work, but Rebeka never felt alone because she was surrounded by staff and other families on whom she could lean when things got tough. Rebeka says she's constantly astonished by all that's provided for families like hers. From the meals donated by the community, to the toys given to all the kids, to the 24/7 laundry room, Rebeka appreciates the little touches. "They have laundry soap for you, they have food for you, they have it all. They make sure that no family goes without anything."
Emery continues to grow and develop, with the help of her various therapies (speech, physical, and occupational). She sits up on her own, and speaks more and more every day, showcasing the sassy personality her parents love so dearly. Despite all the obstacles Emery has faced, she's overcome them, and she's done it all with a smile. Most importantly, she's had her parents with her every step of the way, and that's only because of the support she's received at RMHC in Omaha.
Want to Be Featured in Our Community Spotlight?
Let us know all of the great things your organization is doing to support the community!
Community Spotlight Library
Review our growing library of Community Spotlights featuring local organizations supporting our community!
Search by zip code or support category. NEW! Search for COVID-19 resources or look for the COVID-19 tag on listings.