Dreamweaver Foundation has made it their mission to fulfill the dreams of terminally ill seniors by providing incredible experiences they won't forget. They've fulfilled over 420 dreams, while virtually connecting with over 600 seniors. Many seniors with a terminal illness also struggle with loneliness and depression but a simple, profound act brings so much love and joy to this cherished generation. Dreamweaver Foundation provides ways for seniors to stay socially active and feel connected to their community by their Dream and Connection Hope programs.
What services do you provide?
Dreamweaver Foundation is dedicated to fulfilling the dreams of seniors who are terminally ill, making their life-long dreams come true through incredible experiences they will never forget. Our vision is to ensure all seniors to leave life on a high note whether that be through the simple act of realizing their dreams, or virtually connecting them with their family, friends and loved ones through our Connecting Hope program.
How have you seen the organization make a difference?
Since our organization was founded in 2012, we have fulfilled over 420 dreams, virtually connected over 600 seniors and have written over 5,000 holiday cards to seniors living in isolation. When we see our mission in action, it is evident that it not only impacts the life of the senior, but also their entire family and community that surrounds them. It truly is a beautiful thing to see the love and joy that a simple, profound act can bring to our often forgotten, yet most cherished generation.
Is there anything you wish more people knew about your organization?
Senior wellness is often associated with physical health, but many of us often forget that seniors also might struggle with loneliness and depression.
While depression is not a normal part of the aging process, there is a strong likelihood of it occurring when other physical health conditions are present – such as seniors who are diagnosed with a chronic or terminal illness…like our Dreamers.
One of the best ways to overcome feelings of isolation, depression and loneliness is staying socially active, and feeling connected to your community and loved ones. Both our Dream and Connection Hope programs do just that.
How can people get connected/involved?
Dreamweaver Foundation has many different ways for people to get involved. We have an immersive volunteer program for individuals in our community to help make dreams happen. Our mission can only be done by gifts from generous individuals. You too can help us by going to our website, www.dreamweaver.org/donate, to make dreams come true.
We encourage you to follow us on all social media platforms to see our mission in action, and stay up to date on everything we have going on.
Is there any additional information you want to share about the organization?
Whether you're kicking up your boots or going for that hole in one, our special events definitely put the "fun" in fundraising.
Your good time while supporting our mission is important to us. Just like fulfilling dreams for our Dreamers, we want to ensure that you have a remarkable experience at our events.
Our Boots & Buckets event scheduled for September 22, 2022 and Drive Fore! Dreams events set for May 5, 2022, help fund our ability for seniors in need to realize dreams and virtually connect hope through GrandPad® tablets.
If you are interested in being a sponsor for our events, please contact Cheri Mastny at cheri.mastny@dreamweaver.org.
To see firsthand our mission in action, we encourage you to watch this video of two of our dreamers, Clyde and Joyce, and see just how their love is as big as the ocean: https://www.youtube.com/watch?v=2JdZOqi9Xxs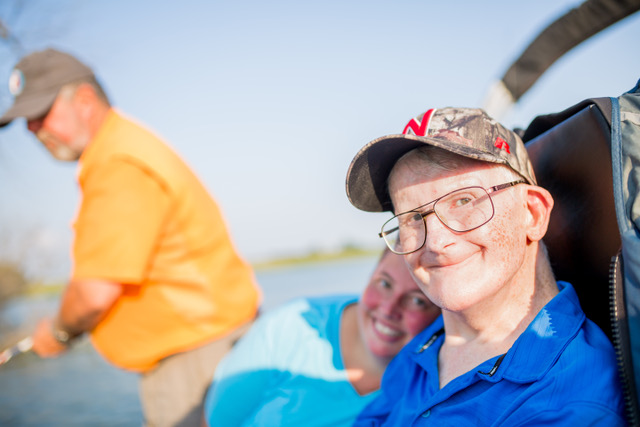 Larry's dream was to go fishing with his brother one last time. You can see the joy in his smile when he finally got that big catch!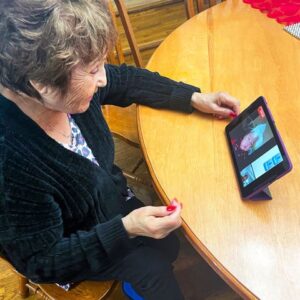 Irene in El Paso enjoys a little one-on-one time with her new granddaughter in Nebraska through virtual connection using her GrandPad tablet.
Want to Be Featured in Our Community Spotlight?
Let us know all of the great things your organization is doing to support the community!
Community Spotlight Library
Review our growing library of Community Spotlights featuring local organizations supporting our community!
Search by zip code or support category. NEW! Search for COVID-19 resources or look for the COVID-19 tag on listings.